FROM WROCLAW TO PRAGUE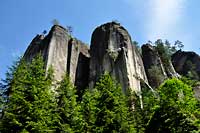 Although Wroclaw and Prague are situated only 220 km from each other the land lying between these two medieval towns is so abundant in nature and culture that during this ten day tour we will be able to visit only selected examples of this richness. The tour passes mostly through the mountains offering close contact with nature, spectacular views and opportunities for moderate physical effort.
ITINERARY
DAY ONE
Arrival in Wroclaw. The tour will begin with a guided walk around the Old City, destroyed in 1945 and then carefully reconstructed. Overnight stay in Wroclaw.
DAY TWO
We leave Wroclaw to visit Milickie Ponds - a huge complex of fish-ponds established in the Barycz valley a few hundred years ago by Cistercians. Now, this area, placed on the Ramsar list, is one of the most important ornithological reserves in Poland with about 150 species of nesting birds. We will spend a few hours walking along the dams and watching birds. On the way back to Wroclaw we will stop in Trzebnica to visit the sanctuary of St. Jadwiga, patroness of Lower Silesia. Overnight stay in Wroclaw.
DAY THREE
A morning transfer southwards (130 km) to the Eastern Sudety Mts. If theweather is good we will climb Snieznik Klodzki Peak (1425 m). The top, elevated above the tree line, is covered by subalpine meadows. In the event of bad weather we will spend the day visiting picturesque old towns andcharming health-resorts. In the afternoon we will reach National Park of the Table Mountains. Overnight stay in the park area.
DAY FOUR
The Table Mountains are scattered examples of plate mountains. Cracked sandstones create fantastic rock forms: crags, precipices and labyrinths. We will spend all day exploring this fascinating world. Overnight stay at the same place.
DAY FIVE
We travel to Karpacz, a famous holiday-resort in the foothills of the Giant Mountains. On the way we will visit Bromovske Stieny (Czech Republic), spectacular sandstone rocks which form a kind of stone town. If time allows we will also visit the mysterious castle Chojnik, surrounded by splendid forest. Overnight stay in Karpacz.
DAYS SIX AND SEVEN
Two full day excursions in the Karkonosze (Giant Mountains) which are the highest part of the Sudety mountain chain, with glacial relief and well developed vegetational zones. All this massif is protected as a national park and transboundary biosphere reserve. The highest summit Sniezka extends 1600 m a.s.l. while the tree line reaches 1250 m a.s.l. The high mountain flora of this crystalline area is not very rich, but contains many rare species.
There is a very well developed network of marked trails in the mountains; moreover, consequent upon an agreement between the Czech Republic and Poland it is possible to cross the boundary without formalities, so we will be able to see both sides of the Karkonosze Range. Routes will be selected according to the weather and participants abilities. Overnight stay in Karpacz.
DAY EIGHT
We cross the border and travel towards Prague, but before we arrive in this beautiful city we will spend a few hours in the Czeski Kras (Bohemian Karst ) Landscape Park. This area, situated west of Prague, consists of Silurian and Devonian limestones which attract geologists from many countries, but also the living nature is very rich with many xerothermic species. There are also interesting cultural monuments including the impressive Karlstein Castle. Overnight stay in Prague.
DAY NINE
Prague is such an interesting city that we spend all day exploring it. First, we will be accompanied by a city guide and then, after lunch, there will be time for independent sightseeing. The day will conclude in one of Prague's charming pubs. Overnight stay in Prague.
DAY TEN
Time for sightseeing or shopping before departure.
ESSENTIAL INFORMATION
ACCOMMODATION
We stay in comfortable hotels/rest-houses sharing two-bedded rooms with private facilities.
MEALS
Full board from dinner in Wroclaw until breakfast in Prague on day ten. Packed lunches will be provided during field excursions.
TRANSPORT
A comfortable private coach.
GROUP SIZE AND STAFF
Maximum twenty, accompanied by tour-leader plus local expert-guides.
PREFERED TIME
10 May - 30 September
PHOTO GALLERY