POMERANIAN LAKE DISTRICT AND THE BALTIC COAST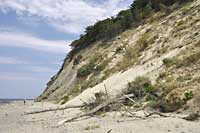 North-western Poland may not be a place that springs immediately to mind as being of great natural interest but, as in so many areas in the country, there are many surprises and much to discover. There are two National Parks (Slowinski and Wolinski), one of international importance, on the long, sandy Baltic Coast. Inland, there are extensive forests and hundreds of lakes which form the Pomeranian Lake District. Two other National Parks (Drawienski and Bory Tucholskie) protect the most valuable areas. This tour will be of particular interest to naturalists, as it explores the National Parks, Landscape Parks and varied Nature Reserves of this wonderful region.
ITINERARY
DAY ONE
Arrival in Berlin, Poznan or Szczecin followed by direct transfer to Kostrzyn, just near Polish/German border, at the confluence of the Warta and Odra rivers.
DAY TWO
An introduction to one of Poland's largest bird reserves. Slonsk, a Ramsar site, extends to 4166 hectares, where hundreds of thousands of birds pass through at the time of spring and autumn passages. Breeding birds include Black Stork, Red Kite, White-tailed Eagle, Harrier sp., Crane and Aquatic Warbler.
DAY THREE
We leave Kostrzyn to travel by coach through the attractive Warta and Notec valleys. Stops will be made at important sites for birds on our way to spend some time in the outstandingly beautiful Drawienski National Park.
DAYS FOUR AND FIVE
The National Park protects the most valuable stretch of the River Drawa where it flows through a ravine 37 kilometres long and 20-30 metres deep. Although in lowland Poland, here the Drawa takes on the characteristics of a mountain river with narrow gorges, springs, clear water, and associated valuable flora and fauna. The Park also protects the River Plociczna and several lakes, and ancient forests are maintained as 'strict reserves'. We will be able to experience this superb natural area on foot and by canoe.
DAY SIX
Fifty kilometres north of Drawienski is the Drawski Landscape Park (41430 ha.), designed to protect a patchwork of beech forests and freshwater lakes which support, for example, around 120 species of bird, many more species of fish and populations of otter.
DAY SEVEN
We leave the Drawski Lake District and travel east for a visit to the heart of the great pine forest 'Bory Tucholskie'. This is a journey of around 150 kilometres which we will break up with visits to some interesting nature reserves.
DAY EIGHT
On the eastern boundary of Bory Tucholskie is the valley of Poland's longest river, the Wisla, where we will visit some nature reserves of high floristic value between Nowe and Tczew. We pass through Malbork, the ancient capital of the Teutonic Knights where the imposing fourteenth century fortress still dominates the town, on our way to Druzno Lake, one of Poland's premier bird reserves. Breeding birds include Great Crested Grebe, Greylag Goose, Harrier sp., Spotted Crake, Corncrake and Crane.
DAY NINE
A full-day tour of the Vistula Lagoon and Sandbar. This lagoon supports a rich community of breeding waterfowl and associated species, and the sand-bar contains an interesting mix of dunes and forests.
DAY TEN
Transfer to the Slowinski National Park on the Baltic Coast north-west of Gdansk. On our way we will pass through the scenic region of Kashubia, characterised by rolling hills, wooded slopes and lake-filled depressions. This attractive countryside is complemented by its historic villages and small towns, where the Kashubian people retain a strong cultural identity, complete with their own dialect.
DAYS ELEVEN AND TWELVE
Slowinski National Park, established in 1967, is of exceptional quality because it contains the most active and extensive dune systems in Europe. The immense scientific importance of Slowinski was recognised in 1977 by its additional designation as a World Biosphere Reserve. There are three principal habitat types - dune, peat bog and lake (the latter covering over fifty per cent of the Park's 18618 hectares) - which are in a continuous state of flux. These habitats are homes for a rich variety of wildlife. For example, 255 bird species have been recorded in Slowinski, 75 % of the total Polish list. Slowinski is a wonderful source of recreation and we will spend two days in this dynamic environment, taking relaxed walks along some of the marked routes through the Park.
DAY THIRTEEN
A full-day drive along the Baltic Coast to Poland's second shoreline National Park, Wolinski, once again stopping off at points of interest on the way.
DAY FOURTEEN
Wolinski National Park, covering a large part of Wolin Island on the north-east side of Szczecin Bay, provides a marked contrast with Slowinski. Calcareous cliffs up to one hundred metres high are a principal feature, and much of the area is clothed by beech forest with oak and pine. Natural communities have survived intact and species include Sea Holly, White-tailed Eagle and Eagle Owl.
DAY FIFTEEN
We can spend some time in the historic city of Szczecin for shopping or sight-seeing before departing home.
ESSENTIAL INFORMATION
ACCOMMODATI0N
We stay in variety of comfortable indigenous hotels or lodges.
MEALS
Full board from arrival until lunch on the day of departure. Packed lunches are provided on some day excursions.
TRANSPORT
In Poland a comfortable private coach.
GROUP SIZE AND STAFF
Maximum twenty, accompanied by English-speaking tour escort plus local experts/guides.
PHOTO GALLERY