BALTIC STATES - WITH A PARTICULAR FOCUS ON BIRDS
The Baltic Countries offer unforgettable experiences for all nature-lovers, but perhaps primarily for birdwatchers. This fascinating two week tour passes through natural forests, vast dunes, swampy meadows, estuaries and huge peat-bogs, but also provides an opportunity to visit several historic places of great importance.
ITINERARY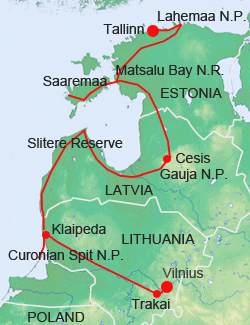 DAY ONE
Arrival in Vilnius, the capital of Lithuania. Transfer to hotel, afternoon guided walk round the old city (a World Heritage Site). Overnight stay in Vilnius.
DAY TWO
Morning transfer to Trakai Historical National Park, to admire the old Lithuanian capital with its two lakeside castles. Afternoon transfer (270 km, motor-way) to the Baltic Coast, overnight stay in the vicinity of Klaipeda.
DAY THREE
Full day visit to the Curonian Spit National Park - a 100 km long, narrow sand-bar, separating the Curonian Lagoon from the open sea. The park is famous for its moving dunes and rich bird-life. Especially during the spring and autumn passages a lot of birds can be seen - about 15 million fly by every year! Walking along the shore in the morning we can find small pieces of amber washed up by the waves. Overnight stay at the same place.
DAY FOUR
We continue northwards to cross the Lithuanian - Latvian border and stop near Pape Lake. This coastal lake and its vicinity is an area of high biodiversity. This place is an important stop for migratory birds on the Baltic part of the East African - European - Arctic flyway. Our next stop is the nature reserve Grinu ( over 1000 ha), established over 60 years ago. It is area of ancient forest with typical birds for such habitat. In the evening we will reach Slitere Nature Reserve on the Kolka Peninsula ( total length of the day's drive cr. 350 km). Overnight stay in the vicinity of the Slitere Reserve.
DAY FIVE
In the morning we will visit Slitere Nature Reserve (13000ha). The reserve is called "Museum of the Baltic Sea" but besides interesting formations there is also a very rich bird-life - 129 species of breeding birds are listed in this area! During the spring migration birds concentrate at Kolka Cap before crossing the Riga Bay. More than 150000 birds pass Kolka each morning in the middle of April. In the afternoon, a 250 km transfer to Gauja National Park. Overnight stay in the vicinity of the medieval town Cesis.
DAY SIX
We will spend a full day visiting Gauja National Park (90000 ha). We will see high cliffs, ancients forests, flowery meadows as well as old settlements and historical monuments. Over 100 species of birds nest in the park. Overnight at the same place.
DAY SEVEN
Transfer to Kuressaare on the Estonian Saaremaa Island (350 km incl. crossing by ferry). Dependent on the time, it may be possible to visit Nigula Bog on the way. There is an 8 km long wooden foot-bridge which provides access deep into this mysterious place. 144 species of birds have been found in this area, over 100 nest here. Overnight stay in Kuressaare or its vicinity.
DAYS EIGHT AND NINE
We will explore Saaremaa island including Vilsandi National Park, famous for its birds (247 listed species, 114 species of breeders); and Saarekula, an area of small islets and bays which offer perfect habitat for birds. If time allows, it will also be possible to see such interesting places as: meteorite crater, Viidumae Nature Reserve - a botanical paradise, and the medieval bishop's castle in Kuressaare. Overnight stay at the same place.
DAY TEN
After returning to the mainland in the early morning, we will visit Puhtulaid, a small peninsula near Virtsu. This area is very interesting during the breeding season (137 species of birds) as well as during migration. It is also a very interesting place for botanists because of the rich flora of its wooded meadows. The rest of the day will be devoted to Matsalu Bay Nature Reserve (49000ha), which is a wetland area of international importance. The bird fauna of Matsalu includes 260 species, 170 of them breeders. Overnight stay at the small town of Haapsalu.
DAY ELEVEN
Transfer to the Lahemaa National Park (250 km ) with a short visit on the way to Korvemaa Landscape Reserve ( 21000ha), an area of drumlins surrounded by wet forests, swamps and bogs. Overnight stay in the vicinity of the national park.
DAY TWELVE
Full day sightseeing of Lahemaa National Park (71000ha), an area of immensely rich flora and fauna (170 species of breeding birds). There are also spectacular geological phenomena, waterfalls, manor houses and other places of interest. Overnight stay at the same place.
DAY THIRTEEN
In the morning we continue visiting the park then transfer to Tallinn, the capital of Estonia. Afternoon guided walk round the old city, full of historical monuments. Overnight stay in Tallinn.
DAY FOURTEEN
Depart home. There are three possible options. We can take a direct plane from Tallin airport, a ferry to Helsinki or return by bus to Vilinius (600 km). In the latter case it will be possible to arrange a 2-3 hours break in Riga to see its medieval centre.
ESSENTIAL INFORMATION
ACCOMMODATION
We stay in comfortable hotels, rest-houses or bungalows sharing two bedded-rooms with adjacent shower and toilet.
MEALS
Full board from dinner in Vilnius until breakfast in Tallin. Packed lunches will be provided during field excursions.
TRANSPORT
A comfortable private coach.
GROUP SIZE AND STAFF
Maximum twenty, accompanied by English-speaking tour escort plus local guides.
PREFERED TIME
The best time for such a trip is late spring, but it can be successfully organised from summer until mid-October. The best time for watching migrating birds is from the middle of April until the middle of May and from the middle of September until the middle of October, while the late Spring is best for observing breeding birds.
PHOTO GALLERY