THE NATIONAL PARKS OF NORTH-EAST POLAND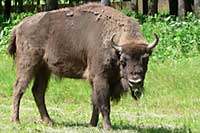 An exciting fourteen day tour to National Parks and Protected Landscapes in the North-east of Poland, including the famous Bialowieza National Park, home to free-roaming European Bison. On this tour, of immense natural history interest, we also visit the Biebrza Valley Marshes, the largest wetland in Central Europe; the Suwalskie and Mazurian Lake Districts; Wigry National Park; and the historic cities of Warsaw, Malbork and Gdansk.
ITINERARY
DAY ONE
Arrive in Warsaw and transfer to a hotel to meet your guide and fellow participants. Participants will be informed how to get to the hotel and about other details.
DAY TWO
We travel by coach to Bialowieza National Park (about four hours) and visit some of the reserves of this extensive natural forest complex on the border between Poland and Belarus. In addition to Bison, the forests are inhabited by animals such as Elk, Wild Boar, Roe Deer, Wolf and many rare species of bird.
DAY THREE
We continue to explore the National Park (especially its core zone, protected since 1921) which protects the most valuable natural areas of the 1250 square kilometres of the Bialowieza Forest. Nearly all lowland forest types are represented here, including oak-hornbeam, pine, alder, marshland and mixed.
DAY FOUR
Close to Bialowieza is the Narwianski National Park, protecting a labyrinth of rivers, streams and pools which are rich in birdlife. We will spend a few gentle hours canoeing on the Narew before continuing north by coach for five nights based at the small lakeside towns of Rajgrod or Augustow.
DAY FIVE
A full day 'photographic safari' to Czerwone Bagno (The Red Swamp) and Grzedy Nature Reserves. One of the most valuable natural regions of Europe, it supports a large and varied fauna, including rare birds (Eagle sp., Eagle-owl, Crane and Black Stork), a population of 500 elk, and other mammals such as Wolf, deer, Wild Boar and Fox. There are the mysterious peatbogs, and alder, dwarf birch and pine woods.
DAY SIX
A boat trip amongst the astounding beauty of the Biebrza Valley, a wetland area in excess of 1000 square kilometres now designated as a National Park.
The primitive nature of the environment and its large size has led to the survival of a remarkably rich flora and fauna, attracting scientists from all over the World. While exploring the marshes we are more likely to see evidence of an Elk or a Beaver than of Man.
DAY SEVEN
Exploring the Suwalskie Lake District Landscape Park, an area of surprisingly diversified landscape formed during the last glaciation.
DAY EIGHT
A full day in Wigry National Park established in 1989 to protect the mosaic of lakes and forests which typifies this North-eastern corner of Poland. There are also interesting archaeological and cultural remains in Wigry.
DAY NINE
Travel west by coach to the beautiful Mazurian Lake District, pausing en route at Luknajno Lake, a World Biosphere Reserve, and at nature reserves in the Piska Forest.
DAY TEN
The Mazurian Lake District is on the point of being designated a National Park. One of the best ways to see it is by canoe, so we will spend the day drifting slowly along the Krutynia river enjoying the great beauty of this special place.
DAY ELEVEN
Close to Mazuria is Gierloz, the site of the Wolfs Lair, great reinforced concrete bunkers from which Goring, Bormann, Himmler and Hitler directed Germany's eastern advance. The July Bomb Plot of 1944, an attempt on Hitler's life, occured here. We continue west to a beautiful Gothic castle built by the Teutonic Knights at Lidzbark Warminski, and stay overnight in Frombork, where Copernicus wrote his work and died in 1543.
DAY TWELVE
We continue our coach journey beside the ornithologically rich Vistula Lagoon then pass through Malbork, the ancient capital of the Teutonic Knights with its huge medieval castle, before reaching Gdansk. There will be an evening walk around this attractive and famous old city.
DAY THIRTEEN
Shopping and free time in Gdansk prior to departure. There are direct flights from Gdansk to Hamburg, Copenhagen and London as well as express train services to Warsaw and Berlin.
ESSENTIAL INFORMATION
Date
20.05 - 01.06.2023
Price
The price is 1490 euro per person.
Extensions
If you wish to extend your stay in Warsaw and/or Gdansk, Eko-Tourist is ready to help you and make all necessary arrangements.
Accommodation
We stay in comfortable hotels or lodges, sharing two or three-bedded rooms with adjacent shower/bath and toilet.
Meals
Full board, from Day 2 until Day 12 and B&B in Warsaw and Gdansk. Packed lunches are provided on some day excursions.
Transport
In Poland, a comfortable private coach.
Group size and staff
Maximum sixteen, minimum twelve, accompanied by English-speaking tour escort plus local experts/guides.
Travelling to and from Poland
The cost of this is not included in the price.
PHOTO GALLERY