BACKWOODS ADVENTURE IN BIESZCZADY BIOSPHERE RESERVE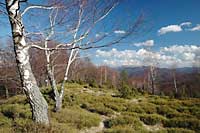 The Bieszczady Biosphere Reserve (consisting of national park and adjacent landscape parks) represents the nature of the East Carpathian Mountains in Poland, close to the border with Slovakia and Ukraine. This ten day tour combines the satisfaction of being in truly wild and remote mountain country with the experience of a backwoodsman's life, walking the tracks which link the mountain huts where we will spend several nights. The tour also visits Krakow, one of Europe's great historic cities, and will stop at places of natural and cultural interest on the coach journeys to and from Bieszczady. The highest summit in the Park is Tarnica (1346 m) and each day's walk will follow terrain which suits people who are reasonably fit and are used to carrying a fairly full rucksack. The tour is designed to spend several days far from the comforts of modern-day life and so you must be prepared to carry all your personal gear while in Bieszczady. Food and cooking equipment will be provided but you will need to take your own sleeping bag and rucksack.
ITINERARY
DAY ONE
Arrival in Krakow. Transfer to hotel for a welcome supper, followed by an evening walk in the Old City.
DAY TWO
Guided introduction to Krakow, a city of so rich a cultural and architectural heritage that it was placed on the first list of twelve World Heritage Sites by UNESCO in 1978.
DAY THREE
Coach journey from Krakow to Ustrzyki Dolne (about 250 kilometres), on the edge of the Bieszczady National Park. During the day our stops will include a visit to an open-air folk museum at Sanok.
DAY FOUR, FIVE, SIX, SEVEN AND EIGHT
We explore the Bieszczady Biosphere Reserve, an area of over 100,000 hectares mostly covered by forest. Beech is the dominant tree but occurs with sycamore, maple and fir to form an association known as Carpathian Beech Forest. The majority of this forest is natural and therefore supports a dazzling variety of flora and fauna. We can look for signs of animals which include European Bison, Wolf, Brown Bear, Lynx and Wild Cat, and listen to more then one hundred species of bird as we journey through this wonderful country.
DAY NINE
We return to Krakow, again stopping en route at museums and nature reserves. A special farewell supper in Krakow.
DAY TEN
Time to shop or sightsee in Krakow before departure.
ESSENTIAL INFORMATION
ACCOMMODATION
We stay in comfortable hotels/hostels in Krakow and Ustrzyki Dolne, sharing two or three-bedded rooms with adjacent shower/bath and toilet. Nights Four to Seven will be spent in huts with communal sleeping arrangements and basic facilities.
MEALS
Full board in Krakow and Ustrzyki Dolne, from arrival on Day One until the morning on Day Ten. All food (simple ingredients) will be provided for the self-cooking arrangements while out in the Bieszczady.
GROUP SIZE and STAFF
Maximum fifteen participants accompanied by licensed mountain guide.
LEVEL OF DIFFICULTY
During the tour there will be several full day walks amongst mountains, following routes which are well within the capabilities of any reasonably fit person who enjoys walking and used to carrying a full rucksack.
PHOTO GALLERY