THE NATURE OF NORTH-EAST POLAND - BIRDS PARADISE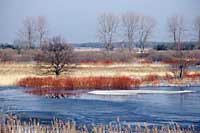 We would like to present to you the opportunity to visit some of the most outstanding natural areas of Europe, including the famous Bialowieza National Park, home to free-roaming European Bison. You will also visit the Biebrza Valley Marshes, the largest wetland in Central Europe; the Mazurian Lake District; Poleski National Park; and conclude the tour in the historic town of Kazimierz Dolny. Through meetings with National Park staff and other professionally involved with nature protection in Poland, together with participation in expertly directed excursions, we aim to enhance your appreciation and understanding of these superb areas while at the same time endeavouring to provide you with a wonderful recreational experience.
ITINERARY
DAY ONE
Arrival in Warsaw, transfer to hotel, afternoon-evening walk around Warsaw, welcome supper.
DAYS TWO, THREE AND FOUR
The Mazurian Lake District designated as a Landscape Park, is also known as 'The Land of a Thousand Lakes'. The lakes are surrounded by varied primeval forests and swamps where numerous wildlife sanctuaries have been created. The clears waters teem with fish and there are many bird species, including Red-necked Grebe, Osprey, Red Kite, White-tailed Eagle, Montagu's Harrier and Crane. The tour will include a full day drifting by canoe along the Krutynia River, and a visit to Luknajno Lake, a World Biosphere Reserve.
DAYS FIVE, SIX AND SEVEN
THE BIEBRZA VALLEY a wetland area in excess of 1000 square kilometres, including 59000 ha of National Park, is astoundingly beautiful. The primitive nature of the environment and its large size has led to the survival of a remarkably rich flora and fauna, attracting scientists from all over the World. While exploring the marshes you are more likely to see evidence of Elk or Beaver than of Man. There will be a full day 'photographic safari' to Czerwone Bagno (The Red Swamp) and Grzedy Nature Reserves, one of the most valuable natural regions of all Europe where the large and varied fauna includes rare birds (Eagle sp., Eagle Owl, Crane, Black Stork, Great Snipe and Aquatic Warbler), a population of 500 Elk, and other mammals such as Wolf, Deer sp., Wild Boar and Fox. There will also be a full day journey by boat cruising down the Biebrza River.
DAY EIGHT
Travel by coach to Bialowieza, with a stop en route in The Narwianski National Park.
DAYS NINE AND TEN
BIALOWIEZA NATIONAL PARK is one of the World's most famous nature reserves and is also designated a World Biosphere Reserve. The last remnants of the great forest which once clothed Northern Europe are to be found in Bialowieza, represented by huge oaks and hornbeams, pines and spruces, alder and other riverine/marshland species. This variety is reflected in the fauna; in addition to Bison there are animals such as Elk, Wild Boar, Roe Deer and Wolf together with many rare species of birds.
DAYS ELEVEN AND TWELVE
POLESKI NATIONAL PARK, by contrast, is one of Poland's most recent, established in 1990. It is a mysterious area of 'low' and 'high' peat bogs, dwarf birch and dwarf pine, the remnants of natural bogs which once extended hundreds of kilometres into Belarus and Ukraine. It is full of birds, 145 nesting species out of a total list exceeding 200, and plenty of other wildlife.
DAYS THIRTEEN AND FOURTEEN
KAZIMIERZ DOLNY :the tour will conclude with a day in this beautiful old town in the Wisla Valley. Its most striking buildings date from the Renaissance but there are many examples of Polish architecture including houses built in the present century by artists and writers who have been drawn to this attractive locality . If you have not had your fill of nature by this stage of the tour the immediate environs of Kazimierz Dolny will not disappoint you; the flora is particularly rich, with many rare species growing on the steep East bank of the Wisla.
DAY FIFTEEN
Travel by coach to Warsaw and depart home.
ESSENTIAL INFORMATION
ACCOMMODATION
You will stay in variety of comfortable indigenous hotels or lodges.
MEALS
Full board, from arrival until lunch on the day of departure. Packed lunches are provided on some day excursions.
TRANSPORT
A comfortable private coach.
GROUP SIZE AND STAFF
Maximum twenty, accompanied by English-speaking tour escort plus local experts/guides
PHOTO GALLERY