THE LAND OF EAGLES' NESTS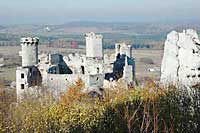 Rambling through the picturesque Cracow-Czestochowa Upland in beautiful scenery of steep limestone rocks, canyons and caves, complemented with numerous castles and monuments perched on rocky outcrops.
ITINERARY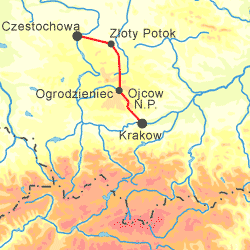 DAY ONE
Assemble in Krakow, former capital of Poland, steeped in historical association with the development of Central Europe and conveniently connected by air with major European and US cities. We will all gather together for a welcome supper at the hotel.
DAY TWO
We tour Krakow, one thousand years old and for many of them Poland's capital city. It is the home of the Jagiellonian University, founded in 1364, where Copernicus studied astronomy. We shall also visit the famous medieval salt mine in Wieliczka, fifteen kilometres from Krakow, a natural as well as a cultural monument. The old city centre of Krakow and the Wieliczka salt mine were placed on the first list of twelve World Heritage Sites by UNESCO in 1978.
DAY THREE
We explore an area directly west of Cracow, where numerous natural and cultural monuments are protected within the landscape park. We will visit for example:
- the 1000 year old Benedictine Abbey in Tyniec, built on a precipitous rock above the Vistula river
- the gloomy ruins of the medieval castle Lipowiec, which served as a prison for centuries
- an open air museum which collects the best examples of wooden architecture from the vicinity of Cracow
- the rocky labyrinth in a small Jurasic valley " The Cold Hole"
Beetween particular places we will travel by bus, but to visit them several short walks (1-2 hours) are necessary. Return to Cracow for overnight stay.
DAY FOUR
Visit to Cracow's Jurassic Valleys - an extremely picturesque complex of valleys lying about 20 km away from the town. We start from the rocky gate in Bolechowice (nature reserve) and walk through several valleys to find, in the last of them a 300 year old monastery surrounded by splendid beech forest. Total walk cr. 20 km. Overnight stay in Cracow.
DAY FIVE
A full day visit to Ojcow National Park, notable for its limestone scenery and extremely rich flora (over 1000 species of vascular plants!), as well as ancient castles. One of them - Pieskowa Skala is perched on a high rock and very well preserved. There is an interesting museum of art in the castle. Return to Cracow for overnight stay.
DAY SIX
Free day in Cracow to explore and enjoy the atmosphere of one of Europe's finest historic cities. On request, arrangements can be made for a visit to the former Nazi concentration camp at Oswiecim (Auschwitz). We recommend you give careful thought prior to choosing this option because most people find the visit extremely distressing. Nevertheless a visit to this place, scene of the largest human slaughter in the world's history, may assist you to put some perspective on the post-war history of Europe.
DAY SEVEN
We leave Cracow and its vicinity and head north-west to Smolen, where at the foot of the ruined medieval castle start our walk to Ogrodzieniec (12 km). In Ogrodzieniec there are vast ruins of a most impressive castle, so perfectly moulded into a composition with rock pinnacles that it is difficult to find a boundary beetween rocks and walls. After visiting the castle transfer by bus to Podlesice for an overnight stay. On the way we will stop to visit "Okiennik" a big rock with miraculous stone window. Our guest-house is situated near the natural reserve Zborow Hill, which we can visit in the late afternoon.
DAY EIGHT
A half day exploration of Rzedkowickie and Podlesickie Rocks - the area bristling with fantastically shaped limestone pinnacles ( cr.4 hours). After lunch we will visit the romantic ruins of two neighbouring castles, Mirow and Bobolice (2 hours) - one of the most charming places in the Upland. Transfer to Zloty Potok for an overnight stay in a guest-house.
DAY NINE
Our destination this morning is Czestochowa fomous for its Holy Virgin Sanctuary located in the fortified monastery. After visiting the monastery and short walk round the town we will visit the nearby natural reserve Folcon Hills and ruins of the old castle "Olsztyn". Return to the guest-house. If the weather is good we can spend this last evening in the "Land of Eagle's Nests" by the fire. Overnight stay at the same place.
DAY TEN
In the morning free time, which you can spend e.g. walking through the large nature reserve "Parkowe" which lies just near our guest house. There are picturesque rocks hidden amongst splendid forest. After lunch transfer to Katowice (the centre of Upper Silesia) or Krakow and depart home by evening train or plane.
ESSENTIAL INFORMATION
ACCOMMODATI0N
We stay in variety of comfortable indigenous hotels or lodges.
MEALS
Full board from arrival until lunch on the day of departure. Packed lunches are provided on some day excursions.
TRANSPORT
In Poland a comfortable private coach.
GROUP SIZE AND STAFF
Maximum twenty, accompanied by English-speaking tour escort plus local experts/guides.
PHOTO GALLERY