CYCLING THROUGH THE LOW BESKID AND BIESZCZADY MOUNTAINS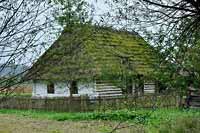 An exciting cycling tour which explores beautiful and remote countryside in the south-east corner of Poland, amongst the Bieszczady Mountains of the great Carpathian range. It is here, on the border with Ukraine and Slovakia, that a large international biosphere reserve has been created to protect this primeval mountain environment. Bear, Wolf, Lynx and Otter are amongst the species still found here in their natural habitat. The tour begins and ends in the famous city of Krakow and heads south and east across the ancient Polish landscape of Pogorze (Piedmont), with many historic places of interest. The route has been carefully chosen to take maximum advantage of quiet minor roads and to limit each days ride to no more than sixty kilometres. You will be able to travel light because all luggage, apart from your immediate needs, will be transferred to the next over-night stop by car.
ITINERARY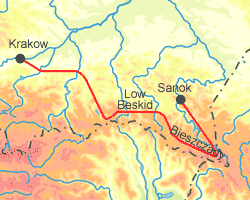 DAY ONE
Arrive in Krakow. Dependent on the time, there will be a guided introduction to Krakow or an evening stroll around the Old Town. Overnight stay in a hotel on the edge of the city.
DAY TWO
Cycle out of Krakow along minor streets and roads to Wieliczka. After a visit to the famous salt mine which, like Krakow, is a World Heritage Site we continue across the rolling countryside of Pogorze to the small town of Dobczyce, for an overnight stay.
DAY THREE
We cycle along country roads to Wisnicz, where there is an impressive castle ruin, then continue south. Ahead of us are the mountains and an overnight stay at a village in the foothills.
DAY FOUR
Today the route heads east across the Pogorze, crosses the Dunajec River and passes a mysterious nature reserve 'Devil's Rocks'. Stay overnight in Ciezkowice, close to another interesting nature reserve 'Petrified Town'.
DAY FIVE
Our direction changes back to south today, still among gentle hills and passing by old churches and through charming villages. Ahead of us are the Low Beskid mountains and, shortly after passing through Szymbark with its old defensive manor house, we enter the Ropa valley and cycle along it to Wysowa, a small health resort with mineral water springs.
DAY SIX
The Low Beskid were once inhabited by the Lemkowie people, Greek-Catholics of Ruthenian origin, but events during World War Two resulted in the de-population of this area. The lanes linking old villages remain and we will follow these, passing some remarkable wooden churches, riding Northeast to an overnight stay at Bartne mountain hut.
DAY SEVEN
The day's ride passes many historic sites as we progress east to Tylawa village.
DAY EIGHT
Leaving Tylawa we enter a landscape park which protects an especially beautiful area. For a while we cycle along the Jasiolka valley then cross a modest range of hills to another river valley, the Wislok. This is remote countryside, with a population density of less than four per square kilometre, and feels a long way from civilisation. Overnight stay in Bukowsko village.
DAY NINE
Ten miles from Bukowsko we reach the Oslawa river, behind which rise the Bieszczady mountains. We follow the valley for a while then some forest tracks to Cisna, a tourist village in the heart of the Bieszczady.
DAY TEN
In the morning we cycle the twenty miles or so from Cisna to Wetlina, where we will stay two nights. There will be time in the afternoon for a walk in the unusual mountain scenery of the Bieszczady.
DAY ELEVEN
A full day's walk in the wild beauty of the Bieszczady National Park. If the weather is good there are vast views from the summits of Wlk. Rawka [1307m] or Tarnica [1346m], which rise above the mixed beech forests which clothe the lower slopes.
DAY TWELVE
We leave Wetlina and follow the valley past another unusual nature reserve, the 'Purple Whirls'. The route then follows the shore of Lake Solina, a large reservoir, and the San valley to the small town of Lesko.
DAY THIRTEEN
A ten mile ride along minor roads leads to Sanok with its fascinating open-air museum of traditional architecture. After a visit here we board a train for Krakow.
DAY FOURTEEN
There may be time for sight-seeing or shopping in Krakow before departure.
ESSENTIAL INFORMATION
ACCOMMODATION
Locally operated, this consists of two-star hotels with twin-bedded rooms in Krakow and rest houses for most of the tour with two or three-bedded rooms. There are communal sleeping facilities at the Bartne mountain hut.
MEALS
Full board, from dinner on Day One until lunch on the final day. Each day a packed lunch will be provided, with a main meal in the evening.
EQUIPMENT AND LUGGAGE
You will need a cycle(!), preferably all-terrain but a good tourist model will be adequate for this tour. Advice on clothing will be sent with final tour details. One item of luggage per person, weighing a maximum of fifteen kilograms, will be transferred by car to each overnight stay. 'City' luggage can be left in Krakow. Bicycle hire may be available in Krakow for a reasonable price.
LEVEL OF DIFFICULTY
This tour is graded medium, which requires you to be in good physical shape and happy with the thought of cycling in rolling, hilly countryside.
GROUP SIZE AND STAFF
Maximum twenty, accompanied throughout by an experienced Polish guide/tour manager and by a driver assistant.