THE BEST OF BALTIC COUNTRIES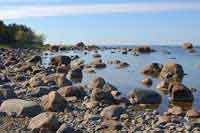 Estonia, Latvia and Lithuania offer tourists an unforgettable experience of contact with ethnic diversity, fine monuments of a long and complicated history and fascinating nature. This exciting twelve day tour leads through the most interesting cultural and natural places in the Baltic Countries. The tour includes some long transfers, of necessity in this vast and sparsely populated area.
ITINERARY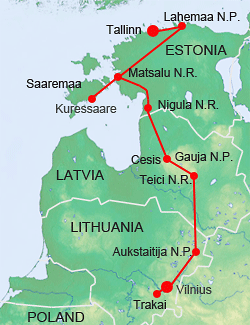 DAY ONE
Arrival in Vilnius, the capital of Lithuania. Transfer to hotel, afternoon guided walk round the old city (a World Heritage Site). Overnight stay in Vilnius.
DAY TWO
Morning transfer to Trakai Historical National Park, to admire the old Lithuanian capital with its two lakeside castles. Afternoon transfer to Aukstaitija National Park (150 km), overnight stay at Paluse village or Ignalina.
DAY THREE
Full day visiting Aukstaitija National Park (40000 ha) - an area of hundreds of lakes, morainic hills, ancient forests and idyllic villages. Overnight stay at the same place.
DAY FOUR
Transfer to Cesis (350km) in Gauja River National Park (Latvia). Dependent on the time, it may be possible to make a short visit en route to Teici Nature Reserve, which protects a huge peat-bog of over 15000 ha. Overnight stay near Cesis.
DAY FIVE
Full day visiting Gauja National Park (90 000 ha). We will see high cliffs, ancients forests, flowery meadows as well as old settlements and historical monuments. Overnight stay at the same place.
DAY SIX
Transfer to Kuressaare on Estonian Saaremaa island (350 km incl. crossing by ferry). Dependent on the time, it may be possible to visit Nigula Bog on the way. There is an 8 km long wooden foot-bridge which facilitates access deep into this mysterious place. Overnight stay in Kuressaare or in the vicinity.
DAYS SEVEN AND EIGHT
Exploring Saaremaa island including such interesting places as: meteorite crater, 'high' cliff Panga Pank, Viidumae Nature Reserve - a botanical paradise, Vilsandi National Park - famous for its birds, medieval bishop's castle in Kuressaare. Overnight stay at the same place.
DAY NINE
Transfer to Lahemaa National Park (300 km ) with short visit on the way to Matsalu Nature Reserve, established to protect the bay and flooded meadows with very rich bird-life, and/or Korvemaa Landscape Reserve - an area of drumlins surrounded by swamps and bogs. Overnight stay within the area of the national park.
DAY TEN
Full day sightseeing of Lahemaa National Park (71000ha) - an area of immensely rich flora and fauna. There are also spectacular geological henomena, waterfalls, old manor houses and others places of interest. Overnight stay at the same place.
DAY ELEVEN
In the morning we continue visiting the park, then transfer to Tallinn, he capital of Estonia. Afternoon guided walk round the old city, full of historical monuments. Overnight stay in Tallinn.
DAY TWELVE
Depart home. There are three possible options. We can take a direct plane from Tallin airport, the ferry to Helsinki or return by bus to Vilinius (600 km). In the last case it will be also possible to arrange a 2-3 hours break in Riga to see its medieval centre.
ESSENTIAL INFORMATION
ACCOMMODATI0N
We stay in variety of comfortable indigenous hotels or lodges.
MEALS
Full board from arrival until lunch on the day of departure. Packed lunches are provided on some day excursions.
TRANSPORT
In Poland a comfortable private coach.
GROUP SIZE AND STAFF
Maximum twenty, accompanied by English-speaking tour escort plus local experts/guides.
PHOTO GALLERY