THE TATRA AND PIENINY NATIONAL PARKS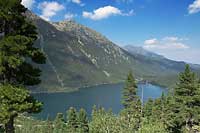 The Tatra and Pieniny are regarded as the most beautiful of the mountainous National Parks of Poland. This eight day tour enable you to experience the remarkable scenery of these special places and to visit Krakow, one of Europe's great historic cities. The full day walks in the high mountain areas follow routes which are well within the capabilities of any reasonably fit person who enjoys walking.
GENERAL BACKGROUND
The Tatra, which form part of the great Carpathian range, have been described as the 'smallest high mountains' in the World. This is a complimentary phrase, reflecting unforgettable natural features of height, shape, glacial relief, climate, flora and fauna which are strikingly Alpine but on a scale which never overwhelms. Just a few days in the Tatra are sufficient to immerse yourself in the charms of this special place. This trip will include inspiring walks amongst the soaring, wild limestone cliffs of the Western Tatra together with the granite walls and spiky summits of the High Tatra, brilliant scenery which is complemented by abundant wildlife. More than 1100 vascular plants have been recorded in the Tatra National Park, breeding birds include golden eagle, eagle owl, alpine accentor and wallcreeper, and there are large mammals such as wolf, brown bear, chamois, lynx and marmot. There will be the opportunity, weather permitting, to ascend some of the highest Tatra peaks, which rise to a maximum altitude of 2655 metres. The Tatra National Park is trans-national and the Polish and Slovakian administrations work in close partnership. The whole Park was designated a World Biosphere Reserve in 1992.
Pieniy National Park - a montainous area on the Polish - Slovak border, is famous of its scenery and exceptionally high biodiversity. Over 1000 species of vascular plants were listed from this area including relics and endemics. The fauna is also very rich including over 130 species of breeding birds and about 1000 species of butterflies. A world famous tourist attraction is to float on wooden rafts down the River Dunajec, which flows through the Pieniny in a spectacular gorge.
ITINERARY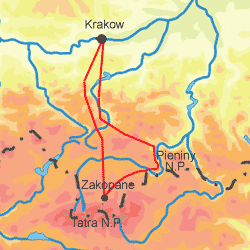 DAY ONE Arrival in Krakow. Transfer to hotel for a welcome supper followed by a short introductory talk about nature protection in South Poland.
DAY TWO Guided introduction to Krakow, a city of so rich a cultural and architectural heritage that it was placed on the first list of twelve World Heritage Sites by UNESCO in 1978. Evening journey by coach to Zakopane (about two hours), the capital of the Polish Tatra, where we will be based for the next four nights.
DAY THREE A full day walks amongst the soaring limestone cliffs and deep gorges of the Western Tatra, brilliant scenery which is complemented by abundant wildlife. In the Tatra National Park more than 1300 vascular plants have been recorded, breeding birds include Golden Eagle, Eagle Owl, Alpine Accentor and Wall Creeper, and we can expect to see animals such as Chamois and Marmot.
DAY FOUR Ascend by cable car from Zakopane to the Peak of Kasprowy Wierch (1987 m). From here we walk along an exhilarating ridge path, Czerwone Wierchy, before descending through Koscieliska Valley perhaps the finest of the many spectacular Western Tatra valleys.
DAY FIVE Excursion to Lake Morskie Oko, in the most beautiful part of the High Tatra. We walk through 'Alpine' scenery , including the Five Polish Lakes Valley and past the highest waterfall in the Tatra (70 metres) to Lysa Polana, a frontier station at the border with Slovakia. The day will end with 'posiad goralski', an opportunity to experience ethnic food and liqueurs.
DAY SIX By coach from Zakopane to the Pieniny Mts (about two hours), where we will stay in fantastic scenic area with immensely rich flora and fauna. We take a raft trip on the River Dunajec, which flows through Pieniny via a spectacular gorge. Dinner and free time in Szczawnica, a health resort in the Pieniny.
DAY SEVEN We return to Krakow by coach (about three hours). On the way into Krakow we will visit the ancient, but still working, salt mines at Wieliczka. This vast underground maze of passages and chambers is unique, leading to its inclusion in the UNESCO list of World Heritage Sites. There will be some free time in Krakow before a special farewell supper. Overnight stay in Krakow.
DAY EIGHT Time to shop or sightsee in Krakow before departure.
ESSENTIAL INFORMATION
DATE
03.09 - 10.09.2023
PRICE
The price is 990 euro per person.
ACCOMMODATI0N
We stay in comfortable hotels/rest-houses in Krakow, Zakopane and Szczawnica sharing two or three-bedded rooms with adjacent shower/bath and toilet.
MEALS
Full Board, from arrival in Krakow until breakfast on Day Eight. Packed lunches are provided where restaurants are unavailable.
TRANSPORT
A comfortable private coach.
GROUP SIZE AND STAFF
Maximum sixteen, minimum twelve, accompanied by English-speaking tour escort plus local experts/guides.
LEVEL OF DIFFICULTY
This tour is graded medium. The full day walks in the high mountain areas follow routes which are well within the capabilities of any reasonably fit person who enjoys walking.
TRAVELLING TO AND FROM POLAND
The cost of this is not included in the price.
PHOTO GALLERY