IN THE HEART OF THE WESTERN CARPATHIANS
An exploration of outstanding Carpathian scenery along the Polish-Slovak border. The tour will focus on the Tatra transboundary Biosphere Reserve, on both sides of the border, and make shorter visits to the Slovak Paradise, Low Tatry and Pieniny National Parks. We will be amongst high mountains, exploring them on foot. Close contact with wild nature will be juxtaposed with a short stay in Krakow, one of Europe's great historic cities.
ITINERARY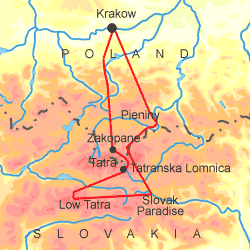 DAY ONE
Arrival in Krakow. Direct coach transfer to Zakopane (about two hours thirty minutes), the capital of the Polish Tatra, for a welcome supper at our comfortable hotel or rest-house where we will based for five nights.
DAY TWO
A relatively relaxed day to follow yesterday's travel. It will include a visit to the Tatra Museum and National Park Centre, which houses an exhibition of the material culture and ethnography of 'The Highlanders', inhabitants of The Carpathian Mountains. You can ascend Gubalowka by cable car, a mountain known for its beautiful views of the whole Tatra range, then walk back down to Zakopane through the trees and meadows.
DAY THREE
A full day walk among soaring limestone cliffs and deep gorges in the Western Tatra.
DAY FOUR
Excursion to Lake Morskie Oko in the most beautiful part of the High Tatra. We walk through 'Alpine' scenery, including the Five Polish Lakes Valley, and this exhilarating day will end with 'posiad goralski', an opportunity to experience ethnic food and drink with 'The Highlanders'.
DAY FIVE
Ascend by cable car from Zakopane to the peak of Kasprowy Wierch ( 1987m) for a magnificent day's walk in the High Tatra, traversing a dramatic ridge to Swinica (2301 m) and the Pass of Zawrat (2159m) then descending to a mountain hut for a refreshing break. Continue on foot down to Zakopane.
DAY SIX
Transfer to Tatrzanska Lomnica in Slovakia. We cross the border at Lysa Polana. A mini-coach will convey our luggage plus participants who may wish to opt out of the long but exhilarating walk across the Tatra to a rest-house near Tatrzanska Lomnica, our base for the next six nights.
DAYS SEVEN AND EIGHT
We will be visiting National Park Centres and other locations of interest in the Slovakian sector of the Tatra National Park. There will be an opportunity to ascend legendary Krivan (2494 m), described as the prettiest peak in the range.
DAYS NINE, TEN AND ELEVEN
We will be making short excursions to the Slovak Paradise National Park, and to the Low Tatra National Park, localities of exceptional scenic beauty. There is a not-to-be-missed opportunity to hike through the Hornad Gorge, using the wood and metal ladders, platforms, bridges and steps which assist your exploration of this astonishing canyon.
DAY TWELVE
Early morning departure to re-cross the border to Poland for a day's glimpse of the Pieniny National Park, a beautiful scenic area with immensely rich flora and fauna. We take a relaxing raft trip on the River Dunajec, which flows through Pieniny via a spectacular gorge. Evening coach transfer to Krakow. Overnight stay in Krakow.
DAY THIRTEEN
Guided introduction to Krakow, a city of such rich cultural and architectural heritage that it was placed on the first list of twelve World Heritage Sites by UNESCO in 1978. There may also be time to visit the ancient, but still working, salt mines at Wieliczka, a vast underground maze of unique chambers and passages. Wieliczka too is listed as a World Heritage Site. Overnight stay in Cracow.
DAY FOURTEEN
Time to shop or sightsee in Krakow before departure.
ESSENTIAL INFORMATION
ACCOMMODATION
We stay in comfortable hotels/rest-houses in Zakopane, Tatrzanska Lomnica and Krakow sharing two or three-bedded rooms with adjacent shower/bath and toilet.
MEALS
Full Board, from arrival in Zakopane until breakfast on Day Fourteen. Packed lunches will be provided where restaurants are unavailable.
TRANSPORT
A comfortable private coach.
GROUP SIZE AND STAFF
Maximum twenty, accompanied by English-speaking tour escort plus local experts/guides.
LEVEL OF DIFFICULTY
The tour is graded demanding. During the tour there will be several full day walks amongst high mountains, following routes which are well within the capabilities of any reasonably fit person who enjoys walking. The choice of these routes will be governed by the discretion of the mountain guide and the preferences of participants. On some days it will be possible to pt out of the walk if you prefer a more restful alternative.
PHOTO GALLERY